Bancyboblen Rare Breed Pigs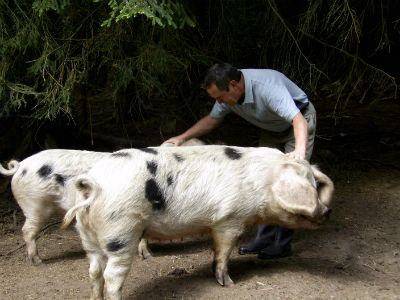 Our very first pig was actually a Tamworth sow named Ruby that was gifted to us in exchange for a bottle of brandy! In terms of breeding however, we started out with Gloucestershire Old Spots and used artificial insemination to impregnate them. They had a wonderful time in the woods rooting around for extra treats in between meal times!
When we came to Cilwg in 2009, we decided to have a little change and opted for the Oxford Sandy and Black breed as they were similar to the GOS in terms of temperament, size and, most importantly, taste! However, due to circumstances beyond our control, we were unable to continue with artificial insemination, so we bought and reared our own boar - Zeus, followed later by Yoda.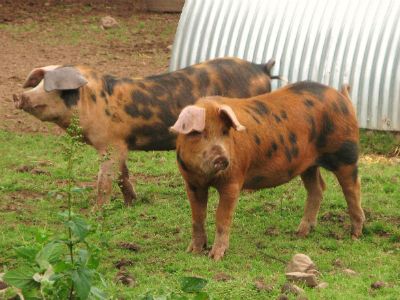 Due to a family wedding in 2014, we decided to sell our breeding herd and have since changed our system to buying in weaners (eight week old pigs) from breeders whom we know and trust. All our pigs are born free range and remain free range until their final days. Since we buy in weaners at regular intervals now, we tend to interchange between pedigree GOSs and pedigree OSBs, and find that the quality is fantastic across the two breeds.

Within reason, we try to keep their diet as natural as possible and it also acts as an enrichment activity. We often pick windfall from apple trees and acorns from our oak trees which we scatter around their enclosure for them to root out - these would be special treats in the wild.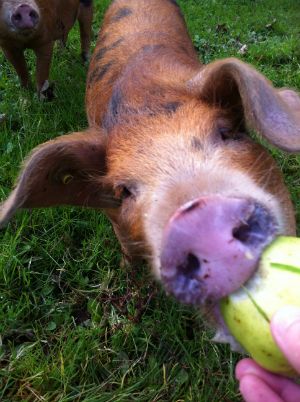 Our free range, rare breed pork grows in popularity with every batch that we rear. We have various systems by which you can get your hands on our wonderful meat.

If you are local and have a reasonable freezer space, you could order a half or a whole pig to be butchered exactly how you'd like it, whether that be joints, chops, belly slices or a wonderful array of tasty sausage flavours - or much more! You can also choose from our frozen stock at any time of the year, or occasionally we'll keep back a half or whole pig to have butchered ourselves to sell as individual cuts and to restock the freezers.
If you live elsewhere in the UK, you could have a look at our choice of selection boxes that we can courier out to you with our reliable, next day service. If any of our choices don't fully meet your requirements, simply get in touch and we'll do our utmost to organise a selection just for you.
Our Easter pork has already SOLD OUT, however we do have plenty of stock available in the freezer ready for collection or delivery.
We hope to have our next batch of fresh half and whole pigs around Christmas-time. Orders already being taken!