Recipe: Pulled Lamb Shoulder with Fennel, Carrot and Chilli Slaw
Posted on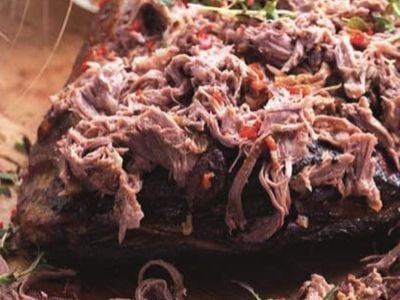 Barbecue pulled pork has become all the rage, but have you ever tried pulling a lamb shoulder? It works wonderfully!
INGREDIENTS
For the Pulled Lamb Shoulder:
1x Cilwg Meats Grass-Reared Shoulder of Lamb
Salt and Black Pepper
3x Large Garlic Cloves – peeled and finely chopped
1x Large Red Chilli – deseeded and finely chopped
3tbsp Ground Coriander
Juice of 1x Lemon
2tbsp Rapeseed or Olive Oil
300ml Red Grape Juice
For the Fennel, Carrot and Chilli Slaw:
1x Small Fennel Bulb – finely sliced or shredded
2x Medium Carrots – peeled and grated
4tbsp Sweet Chilli Sauce
4tbsp Light Mayonnaise
Juice of Half a Lemon
2tbsp Freshly Chopped Flat Leaf Parsley
METHOD
Firstly, prepare your lamb shoulder by trimming the fat and removing the bone.

Preheat the oven to 170C (Gas Mark 3/325F).

Prepare the spiced rub for the lamb by mixing together all the ingredients apart from the grape juice (and the lamb shoulder!).

Place the shoulder in a non-stick roasting tin and coat both sides with your prepared rub.

Pour the grape juice over the shoulder in the roasting tin.

Cover with baking paper and then cover with foil over the top.

Roast in the oven for 4 hours, turning halfway through.

Meanwhile, to prepare the slaw, mix all the ingredients together in a large bowl.

Once cooked, remove the lamb from the roasting tin. (In the summertime, you may wish to 'finish' the joint over a barbecue for 10 minutes on each side, but this is not necessary.)

Place the joint on your chopping board and pull using two forks to shred the meat.

Serve with flatbreads or bread rolls – or however you like!
Do share your photos and opinions with us if you decide to try this recipe! We'd love to hear from you.